Thanks for printing! Don't forget to come back to Meriwether & Tharp, LLC for fresh articles!
Contempt Actions Generally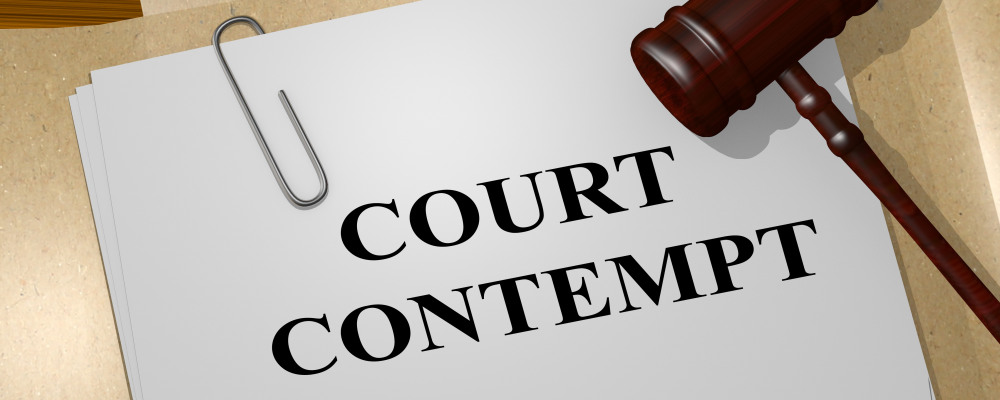 Generally, contempt of court refers to an action or actions that disregard or disobey an order of the court or conduct that is disrespectful toward the court. See generally Garland v. The State, 253 Ga. 789 (1985). Georgia courts have the power to enforce their orders and judgments and maintain order in their immediate presence by virtue of their contempt power. Thus, if your former spouse has failed to adhere to the court's order regarding child support, child custody, alimony, or division of property, he or she may be found in contempt of court. See generally O.C.G.A. § 19-6-28.
In Georgia, all Domestic Relations court orders, such as orders concerning alimony, child support, equitable division of marital property, child custody and parenting time, may be enforced by actions for contempt. O.C.G.A. § 19-6-4. See also Glover v. Glover, 160 Ga. 422 (1925), Robbins v. Robbins, 221 Ga. 627 (1966), Berman v. Berman, 231 Ga. 727 (1974). Contempt actions, other wise known as attachment or motions for contempt, may be brought by the injured party against the offending spouse regardless of whether the order was based on a jury verdict, a final decree of the presiding judge, or based on an agreement between the parties incorporated into the final order and decree. O.C.G.A. § 19-6-4, Barnum v. Barnum, 205 Ga. 448 (1949), Smith v. Smith, 224 Ga. 689 (1968). However, a contract or agreement between the parties that has not been made an order of the court may not be enforced via an action for contempt. Eickoff v. Eickoff, 263 Ga. 498 (1993). The purpose of contempt actions is to allow the courts to exercise their inherent authority to enforce their orders. Kay v. Vaughan, 224 Ga. 875 (1968). Courts enforce their orders through the threat of contempt sanctions or imprisonment if the offending party continues to refuse to comply with the court's order. Baars v. Freeman, 228 Ga.App. 835 (2001).
Requirements & Procedure
A contempt action or an attachment for contempt may be initiated by the injured party by that party filing a motion for contempt against the offending party. Baer v. Baer, 263 Ga. 574 (1993). In order for a party to have a viable contempt claim, the initiating party must make three main showings: 1) that the initiating party is the proper party to bring the contempt action, 2) that the offending party has failed to comply with the court's order, and 3) the offending party's' failure to abide by the court's order was willful. Crozier v. Crozier, 231 Ga. 486 (1973) and Kent v. Kent, 265 Ga. 211 (1995). Although it is essential for these three main elements to be proven before a party may prevail in a contempt action, proving these three elements may not always guarantee success in a contempt action. Georgia courts have wide discretion to determine whether their order has been violated and how or whether to punish such violation. Kaufmann v. Kaufmann, 246 Ga. 266 (1980) and Costa v. Costa, 249 Ga. 494 (1982)...(continue reading).
Contempt Defenses
Generally, an action for contempt may be defended against by alleging that the failure to abide by the court's order was not willful. Normally this allegation that the failure to pay was not willful comes in the form of the defendant showing that he or she does not have the ability to comply with the court's order…(continue reading).
Contempt Garnishment
Garnishments are court orders that direct money or property of a party, usually the earnings or wages of that party paid by an employer, to be seized to satisfy a debt. Normally, garnishments operate by attaching the earnings of the non-paying party before that party receives compensation from his or her employer…(continue reading).
IDO
An Income Deduction Order, commonly referred to as an IDO, is a court order requiring an obligated parent's or ex-spouse's employer to take money from that party's income to satisfy a child support or alimony obligation. Once an IDO is entered and takes effect, the obligated party's employer will send the child support or alimony payments to Georgia's Family Support Registry…(continue reading).
Did this article help you?
Thank you, we appreciate your feedback!